Press Releases
Forging a Resilient Future Together: A Global Gathering at Yushan Forum
PUBLISHED OCTOBER 8, 2020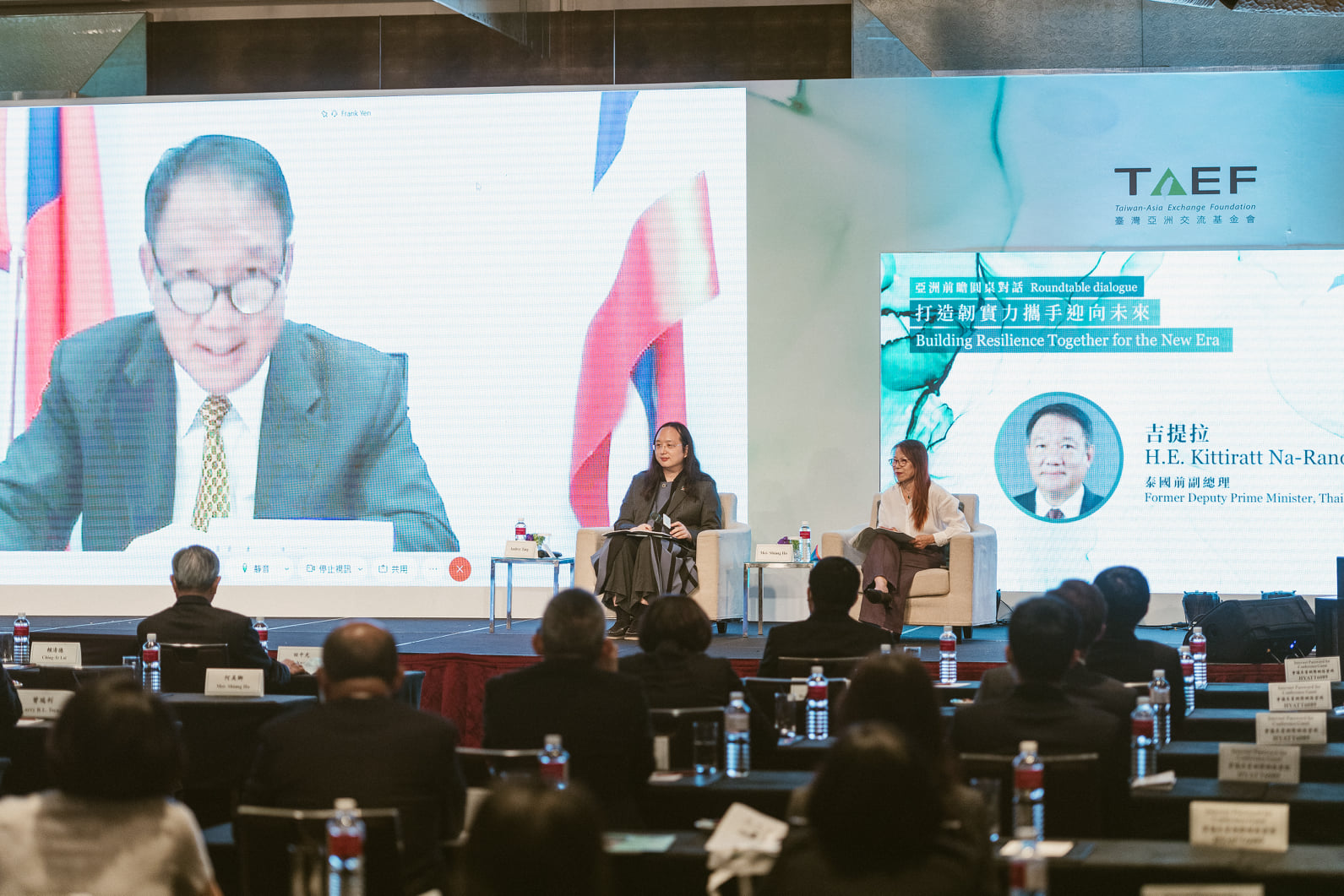 Yesterday, President Tsai Ing-wen addressed during the opening ceremony of the 2020 Yushan Forum: Asian Dialogue for Innovation and Progress. She pointed out that while the COVID-19 pandemic continues to ravage the globe, Taiwan has demonstrated, time and again, that it is an indispensable friend and partner with the donation of 4 million face masks, protective suits, and pandemic prevention supplies to its New Southbound Policy partner countries. She also pointed out that any political attempt to prevent Taiwan from sharing its experience and making contributions does not serve the collective interests of the region.
The Taiwan-Asia Exchange Foundation (TAEF) held its fourth annual Yushan Forum: Asian Dialogue for Innovation and Progress, in Taipei on October 8th. The theme: Forging a Resilient Future Together, focused on Taiwan's experience as well as holding discussions with both officials and experts from multiple countries. Due to the impact of the global epidemic, officials and experts from various countries used online and physical methods to deliver speeches. Speakers from 12 countries including Taiwan's New Southbound partner countries as well as those from the United States, Japan, and Europe delivered their speeches.
In his welcoming speech, Hsin-Huang Michael Hsiao, Chairman of TAEF, emphasized that technology can help us overcome geographic constraints, but it cannot repair the deteriorating global partnership that has occurred during the epidemic. The Yushan Forum is an opportunity for us to re-examine partnerships, think about rebuilding mutual wellbeing, trust, openness, and strengthening the resiliency of the existing partnerships. Resilience, meaning more participation from companies and civil society groups, cooperating to deal with issues and challenges. He encouraged participants to explore the foundation of a shared culture in the region during exchanges, make partnerships stronger, and explore how Taiwan can assume the role of a regional resilience hub.
Global leaders also gave their opening addresses at this year's Yushan Forum. Former Australian Prime Minister Malcolm Turnbull recognized that Australia and Taiwan share ideals such as freedom, democracy, and rule of law. And he also pointed out that mutual respect for the sovereignty of others enables our region's economic growth of the past 50 years; however, with its growing market economy, China was expected to become a more liberal democracy like Taiwan, and yet under the rule of the Communist Party, it is becoming more authoritarian at home and aggressive abroad.
Former Swedish Prime Minister Carl Bildt affirmed Taiwan's performance during the early periods of the epidemic and emphasized that information should be exchanged freely, and any political barriers against this are diminishing the possibility of success.
Keiji Furuya, a member of the Japanese House of Representatives emphasized that the international community should leave no one behind in terms of health and human wellbeing. Therefore, with Taiwan's knowledge and experience, it should be allowed to share with the international community through the World Health Organization without obstacles.
At the Roundtable Dialogue of Yushan Forum in the afternoon, Vice President Ching-Te Lai pointed out, during his speech, that the key to Taiwan's success in epidemic control lied with its public health capabilities, technological strength, and transparent institution. He also emphasized that threatened by China, Taiwan will not change its commitment and will continue to drive the 4 principles which are peace, prosperity, democracy, and dialogue.
The roundtable discussion was hosted by Minister without Portfolio, Audrey Tang. Speakers included Jusuf Kalla, former Vice President of Indonesia, Kittiratt Na-Ranong, former Deputy Prime Minister of Thailand, and Han Sung-Joo, Chairman of the Asian Institute for Policy Studies in South Korea, and Mei-Shiang Ho, a researcher at the Institute of Biomedical Sciences, Academia Sinica.
Kalla said that the market should maintain a balance between de-regulation and re-regulation so that the latest technology can be effectively regulated while adapting to the current challenges. Kittiratt added that private investment needs to be restored and centered for potential domains in the future.
Mei-Shiang Ho emphasized that the government should focus on reducing the risk from the source in order to prevent the next epidemic. And she also questioned whether the cause of the Sino-America dispute is not because the two had chosen different directions but different values.
Han Shengzhou replied that the differences between values do not always impede the search of common ground and can be overcome by great leadership.