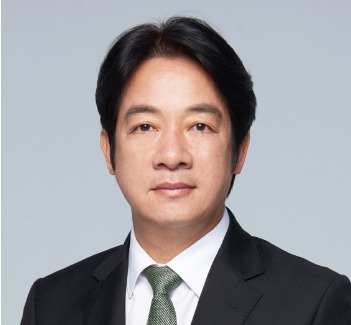 H.E. Ching-Te Lai
Vice President
R.O.C. (Taiwan)
H.E. Lai Ching-Te is the Vice President of the Republic of China (Taiwan). He received his B.S. from National Taiwan University's Department of Physical Medicine and Rehabilitation, and completed the Post-Bachelor Program in Medical Science at National Cheng Kung University, and then obtained a Master of Public Health degree from Harvard University.
In 1998, Dr. Lai was elected to the Legislative Yuan representing Tainan City. Leveraging his medical expertise, he played a dynamic role in the Social Welfare and Environmental Hygiene Committee while addressing over 100,000 local issues. He chaired the legislature's bipartisan Health, Welfare and Environment Foundation and was also part of a lobby group promoting Taiwan's World Health Organization (WHO) membership. During his legislative tenure of four consecutive terms (1999-2010), Dr. Lai was nominated as the "Best Legislator" by Citizen Congress Watch.
In 2010, Dr. Lai was elected as the mayor of Tainan City, and was later reelected in 2014, winning by a wide margin of 72% of the vote. As mayor from 2010 to 2017, Dr. Lai also actively promoted city diplomacy, working closely with Japan's government, National Diet, and private sector to promote exchanges and sister-city agreements, enhancing substantive ties in culture, tourism, sports, agriculture, and disaster relief.
Taking on new leadership responsibilities in troubling times, Dr. Lai served as Taiwan's premier from 2017 to 2019. In November 2019, Dr. Lai accepted President Tsai Ing-wen's invitation to be her vice-presidential running mate in the following year's election, helping President Tsai win re-election and the DPP retain a legislative majority.