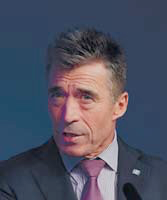 H.E. Anders Fogh Rasmussen
Former Prime Minister / Former Secretary General
Denmark/ NATO
Anders Fogh Rasmussen has been at the centre of European and global politics for over three decades as the Secretary General of NATO, the Prime Minister of Denmark, the Danish Minister of Economic Affairs, and, last but not least, as a leading Danish parliamentarian.
Anders Fogh Rasmussen began his political career in 1978, becoming the youngest member of Parliament in Denmark at the age of 25. He was promoted to Minister of Economic Affairs in 1990 and became the Prime Minister of Denmark in 2001. He held this position until 2009 when he was appointed as the Secretary General of NATO.
On October 1st 2014, he established the geopolitical consulting firm, Rasmussen Global, with a presence throughout Europe and in Washington D.C. In June 2016, he was appointed advisor to the then-President of Ukraine, Petro Poroshenkoand, and from 2019 to 2020, he worked with Prime Minister Rama on the EU talks of Albanian accession. In 2017, he founded the Alliance of Democracies Foundation, a non-profit organization - dedicated to the advancement of democracy and free markets across the globe - which among others hosts the annual Copenhagen Democracy Summit. In April 2020, Anders Fogh Rasmussen also became Senior Advisor to Citigroup's European, Middle East and Africa business.